Why Going Green Can Help Save Your Small Business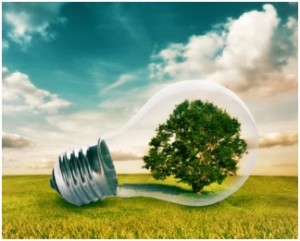 Much of the world is the midst of a green revolution, and a great deal of this eco-conscious focus is squarely on businesses. Obviously, mega-corporations can contribute the most to the health and safety of people and the environment, but small businesses can make green changes that will ultimately positively affect their profits and their reputations.
More and more consumers are making their shopping choices based on a company's commitment to environmental practices. As these shoppers vote with their wallets, it's beneficial in several ways for a small business to adopt green practices. Not only does this woo customers, it can also save money on everything from utility bills to yearly taxes.
If you're a small business owner and you'd like to learn more about taking your business to the next, green level, consider some of these ideas to make your company more eco-friendly.
Reduce.
One of the easiest ways to put your small business on the path to eco-consciousness is to simply reduce consumption, although this is often easier said than done. A reduction in overall consumption can take place across the board, and it can encompass everything from energy to paper. Depending on the type of business that you own, you may want to focus on reduction in a specific area.
If your business operates out of an office or building, change your light bulbs immediately. Traditional incandescent bulbs are no longer manufactured in the United States, but stores can still sell their existing stock. However, don't wait until your favorite, antiquated bulb is sold out. Swapping your light bulbs for the LED variety now will save you money from the moment they're installed, and you should recoup the purchase price of the new bulbs within one year via the savings on your electric bill.
Reuse.
The concept of reusing items instead of buying new ones is not a new one, but it is still an idea that seems to be hard for some to implement. Simply using an item over again until it is worn out can save large amounts of money, but it might be difficult for some business owners to decide when doing that skimps on quality and affects their bottom line.
For instance, if you're in a business that utilizes towels, such as spa, gym, hair salon, or pet grooming business, you're likely to use a number of those towels in the course of a day. Washing and reusing those towels makes good business sense, but frequent washing can cause cheap or inferior towels to wear out much more quickly, necessitating the purchase of new ones. Consider adding a sturdy, bleach-safe line of towels from BluSand to your inventory. Products that last longer while maintaining much of their original quality will always save your company money.
In addition, encourage your customers to reuse items, as well. If you explain that your company is actively working to reduce waste by reusing towels and other items, they'll be more likely to understand your mission and support it with their repeat business.
Recycle.
Many businesses pride themselves on their recycling history but simply recycling used office papers and soda cans from the break room isn't enough. There are many ways to recycle a number of office furniture, electronics, and other materials that some businesses might not be aware of.
One of the best ways for a business to recycle doesn't always involve a traditional recycling center. If you're ready to upgrade your office's computers, donate the old ones to a school or children's after-school program in your area. Consequently, non-profit agencies are always in need of office furniture and equipment that still has a life left in it. Not only does this save these items from your city's landfill, many donations of this sort are tax deductible.
We've all long been told that we have only one planet and that we need to take care of it by reducing our consumption of goods and natural resources. By implementing these practices within our own businesses we can encourage and inspire our customers to do the same in their homes, or even within their own places of business or employment. Not only does this perpetuate the idea of reduce, reuse and recycle but it also saves your company money, which is a win for everyone.

Young Upstarts is a business and technology blog that champions new ideas, innovation and entrepreneurship. It focuses on highlighting young people and small businesses, celebrating their vision and role in changing the world with their ideas, products and services.