[US][Event] CITE 2014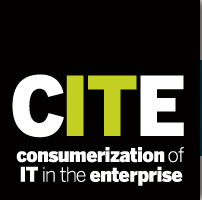 Consumerization of IT in the Enterprise (CITE) Conference & Expo
 will return for its third edition this year, taking place April 27-29 at the Hilton Union Square in San Francisco. The event, devoted exclusively to the intersection of consumer technologies and the enterprise, will explore the ways companies are embracing consumer-inspired technology to engage employees, drive innovation, and attract and empower the next generation workforce. Presented by IDG Enterprise, this year's conference looks to bring together more than 750 IT, business and HR executives, venture capitalists and thought leaders to showcase their leading efforts and teach others how to make the most of this transformation of technology. New content this year include case studies from CITE's own
Awards program
on topics ranging from Smart Data to Best Business Work Environment, content for hiring managers, HR executives and all business stakeholders on creating a next generation workplace, programming for marketing executives looking for the best of best practices around the latest technologies that engage customers and empower the sales team. Other topics covered will include Bring Your Own Services, corporate device practices, HTML5 vs. native apps, wearable computing, the Internet of Things and more. There's also a speaker lineup will feature industry leaders such as 
author Steven Johnson
 (whose works on innovation include the books "
Future Perfect
" and "
Emergence
"), 
futurist Thornton May
, 
NASA's Tom Soderstrom
, former Facebook CTO and Quip CEO Bret Taylor, as well as Google Chrome's Cyrus Mistry.
Daniel Goh is the founder and chief editor of Young | Upstarts, as well as an F&B entrepreneur. Daniel has a background in public relations, and is interested in issues in entrepreneurship, small business, marketing, public relations and the online space. He can be reached at daniel [at] youngupstarts [dot] com.