CardShark Convert Business Cards Into Contacts Using Life Transcribers
If you attend as many events as I do you're probably swamped by heaps of business cards (especially if you have an
Asian festish for them
), yet don't have enough time to properly process them into actual usable information. And while there're a number of technological innovations in this space - such as
QR code-equipped cards
or devices that
directly scans business cards
- it's still difficult to get the information accurately into your contact lists. Maybe a human touch is required. If so, that's why
CardShark
Business Card Reader by Denver, Colorado-based FullContact uses real-life people to help you transcribe those cards. Just snap a photo using the iOS app of each side of a business card, and just wait as a team of people transcribe that information with accuracy into contact information.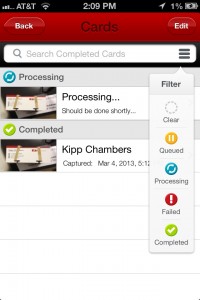 It's somewhat retrospective considering the gamut of technology we have at our disposal, but hey as long as it's reliably accurate there will be a market for this.
CardShark
is also somewhat pricey at an unlimited plan for $9.99 per month, or an annual unlimited plan at $99 per year (available at the
iTunes Store
), but someone has to pay for the services of all those nice, real people. You can try
CardShark
for free with 25 scans. FullContact was founded by Bart Lorang, Dan Lynn, and Travis Todd in 2011. The startup was a TechStars Boulder 2011 company, and is funded by Foundry Group, Tango Group and investors like Brad Feld, David Cohen, Dave McClure, Howard Lindzon and Eric Norlin. You can read FullContact's
startup - and funding - journey here
.
Daniel Goh is the founder and chief editor of Young | Upstarts, as well as an F&B entrepreneur. Daniel has a background in public relations, and is interested in issues in entrepreneurship, small business, marketing, public relations and the online space. He can be reached at daniel [at] youngupstarts [dot] com.