Causora.com Converts Your Skills Into Donations To Causes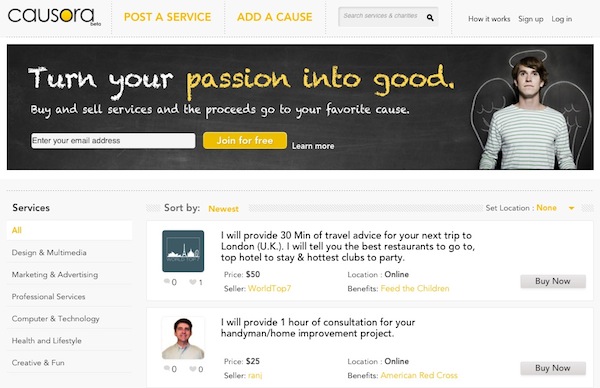 Let's say you have a heart of gold, but instead of money you have a set of valuable skills or knowledge. Instead of giving money (that you may not have) to charity, how about contributing that talent instead? That's the premise of
Causora.com
, a charity-focused online marketplace where people turn their passion and skill into donations for their favorite charity. For example, you can be a yoga teacher, nutrition consultant, plumber or a graphic artist and donate your services on the site. When someone purchases it, the proceeds go to your chosen charity or favorite cause. You may not have the spare disposable income to give money for a good cause, but there are always ways to help out without the need for opening your wallet.
Causora.com
empowers us to make an impact on the world while doing what you already are doing or love to do.
Daniel Goh is the founder and chief editor of Young | Upstarts, as well as an F&B entrepreneur. Daniel has a background in public relations, and is interested in issues in entrepreneurship, small business, marketing, public relations and the online space. He can be reached at daniel [at] youngupstarts [dot] com.