[Infographic] Redefining Action Hero: Why Bill Gates Is Better Than Batman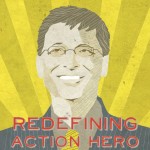 If you're like most people, you'd probably worship the late innovative Steve Jobs over nerdy, geeky Bill Gates. But wealthy Gates, with his philanthropic work, is destined to end up in the list of the most philanthropic persons - alongside luminaries such as Andrew Carnegie, Warren Buffet and John D. Rockfeller. From a commitment to eradicating polio to improving the U.S. education system, Gates' philanthropic
Bill & Melinda Gates Foundation
surely positions him as a real-life Bruce Wayne, aka. Batman's billionaire industrialist, and philanthropist alter ego. Here's an infographic that shows you what kind of impact on mankind Gates has:
(Source:
frugaldad.com
)
This infographic was first posted on FrugalDad.com.
Daniel Goh is the founder and chief editor of Young | Upstarts, as well as an F&B entrepreneur. Daniel has a background in public relations, and is interested in issues in entrepreneurship, small business, marketing, public relations and the online space. He can be reached at daniel [at] youngupstarts [dot] com.