[Singapore] [Competition] SLA OneMap Challenge
Posted by Daniel Goh on 1/10/12 • Categorized as Events & Happenings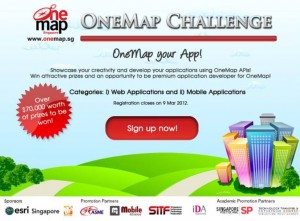 It wasn't quite so long ago at
GovCamp Singapore
that citizens were arguing for more openness of public data. Today, at least one public sector organization has taken heed - the
Singapore Land Authority (SLA)
is introducing the
OneMap Challenge
, a competition to leverage on over 45 layers of theme data contributed by various public agencies on 
OneMap
as well as the datasets on
www.data.gov.sg
to develop location-based desktop and mobile applications useful to businesses and the public. "Geospatial information is fast becoming indispensable in our daily life, at work or at play," says Ng Siau Yong, Director of GeoSpatial Division,
Singapore Land Authority
. "We need to evolve a vibrant geospatial ecosystem of content and solution providers to cater to the growth of its use as well as the development of innovative location-based apps. 
OneMap Challenge
is part of our effort to this end." The
OneMap Challenge
is divided into two categories - Web Applications for applications that run on web browsers and Mobile Applications for those that run on smart phones, tablets and other portable devices. Participants can - and are even encouraged to - mash up public data with commercial and community data for creation of the applications. Evaluation criteria include originality of concept, social or commercial value and its user friendliness. The two top prizes stand at S$20,000 cash each (one each category). Visit the
OneMap Challenge website
or its
Facebook page
to find out more.
Daniel Goh is the founder and chief editor of Young | Upstarts, as well as an F&B entrepreneur. Daniel has a background in public relations, and is interested in issues in entrepreneurship, small business, marketing, public relations and the online space. He can be reached at daniel [at] youngupstarts [dot] com.
Tagged as: application development, competition, location-based services, map-based applications, OneMap, public data, Singapore, Singapore Land Authority